The University Football Club prides itself on providing a safe and inclusive environment to develop young people into successful footballers and great people.
Since its inception 100 years ago, the club has constantly evolved in line with the needs and preferences of its players.
In response to the launch of the AFLW in 2017, it was identified that there was a lack of pathways for female players in senior amateur clubs. The club, led by the late great Neil Donaldson, led the charge as an inaugural member of the WAAFL (now PFL) Women's competition the following year. This was an important step in the evolution of the club, providing an amateur pathway for women of all abilities to play our beautiful game.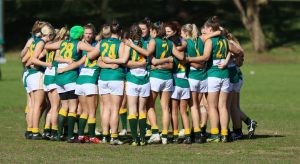 They had some work to do to foster the right environment for new group of female players. As is so often the case, the first few years were difficult, with second-hand male uniforms provided along with ill-equipped change rooms.
Now, six years into the program, our two Womens sides (The Stormers & Peacocks) have their own jumpers, female cut shorts, training uniforms and the equipment they need to thrive.
The last major piece of the puzzle is the changeroom, which will be solved with the launch of our ongoing Neil Donaldson Pavilion construction, due to finish in late-2024.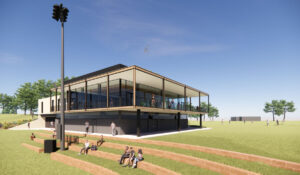 Pride at Uni Footy
In 2022, a group of players from the Women's program came to the committee with the request to hold a Pride Round during the season. With a player-run club like Uni, it is possible to move quickly on initiatives like this and it was agreed that the round would take place that year.
The club celebrated the week with a rainbow training session and arm bands adorned across all grade.
"It is important to showcase rounds like this to the community as it shows the importance of being proud to be your authentic self and more importantly inspires younger players to embrace differences in all. Visibility is the most important way we can create acceptance and togetherness." – 2022 Stormers Vice-Captain Lauren Bilaloski, one of the main drivers for the pride round.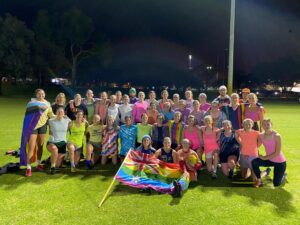 In season 2023, it was agreed that the round needed to extend past visibility, with a focus on education across the playing group.
"We want to give everyone the chance to feel included and have the opportunity to experience what it means to be a part of the University Football Club" – President Jake Colvin
Pride round 2023
In late July, the Uni Footy Club held its second annual Pride Round across all grades.
The week started on the Tuesday, where all grades came together for a combined training session. This is the third time that the club has held a session like this and it is always well received. The session provided an opportunity to integrate the women, colts and mens players in a fun and footy-based setting.
After training, everyone gathered in the AJ for a session with former AFLW player Kara Antonio. The players heard about her experience as an inaugural marquee player/captain at Fremantle and what she has been up to since retiring in 2022. Despite the attempts of Stormers coach Harry Beaton, we weren't successful in luring her to pull on the boots for Uni but never say never…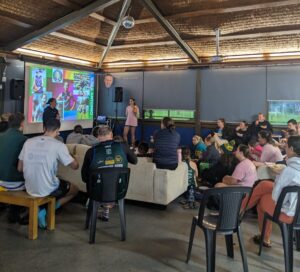 The session was educational for everyone in attendance, hearing the real experience of playing footy at the elite level as a member of the LGBTQIA+ community. This session also sparked conversation amongst the group about what we can do as a club to ensure that everyone feels included.
The week finished on Saturday, with the players donning Uni branded "progress pride" socks and running out on to the McG with a rainbow painted across the 50m arc.
"Uni has become increasingly diverse, and it's important we celebrate that." Said Pride Round organiser and Peacocks player Zara Cavalot.
"We also have the obligation to create a safe, welcoming and inclusive environment for our current players and future players. More than just rainbows and flags, celebration is a way to be louder than the negativity which can still exist on or off the footy field. People play their best when they can be their authentic selves and we're proud to be a place for our footy community to show up as their true selves."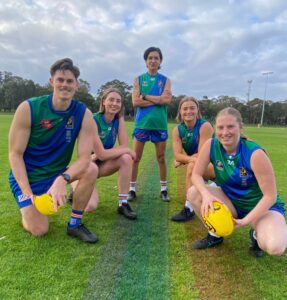 Coincidentally, that night we held our Fundraising Gala Ball, raising funds for our new pavilion. This new building will assist in our goals to create a safe environment for all players and supporters. Aligning with the pride round, our new pavilion will provide secure change rooms for all players and a more inviting environment for supporters.
What the future holds
The Uni Footy Club is committed to continued evolution in all areas, including player wellbeing and safety. Earlier this year, we launched a new wellbeing program in collaboration with Liminal. This program will be expanding in 2024.
In recent years, there have been female players in Executive, Committee, Social, Events, Coaching and Volunteer positions. We are committed to providing equal opportunities for all players that are interested in contributing to the future of the Uni Footy Club.
The ABC report on Four Corners in August 2023 brought to light a number of issues that still exist within the AFL around sexuality and shows that there is still work to be done.
As an amateur club, it is important that we provide a safe environment at a grassroots level, to ensure that there are pathways for future players to enjoy Australia's game.
You are welcome at the Uni Footy Club.