There are many names that have had a lasting impact on the University Football in it's 100 year history. The likes of Donaldson, Turner, Banfield, Wheeler, Steinepreis, Lalor and Taylor have been a part of the club for decades but one name stands above the rest in the modern day.
Since 1990, Greg 'Erkdog' Erskine has been a part of the fabric of Uni Footy, a solid contributor on-field and the cultural lifeblood off it. For a 'Shy Guy', Greg made an immediate impact, taking to the club like a duck to water and ensuring every bussy was chocked full of singing and boat races.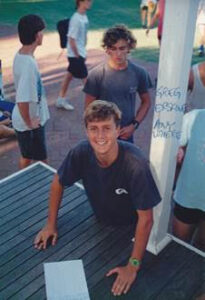 Playing Career
Ask him yourself about this, as he will tell you in great detail. Starting in the A-Colts program, Erk Dog jumped in feet first to Uni footy. As is so often the case in the A-colts, Greg started his career with 2 flags in 2 years under the tutelage of the great John 'Fish' Taylor.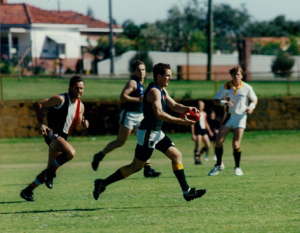 Greg then spent some valuable time in the lower grades, winning flags and having the time of his life working on fine tuning his bus trip skills. It culminated with him apparently "turning the game on its head" under George Kakulas' mighty 1995-6 Premiership dynasty.
In amongst travelling and winning flags in the lower grades he eventually managed to play his first game of A Grade in 2001 at 29 years of age. He then went to Melbourne to play for Old Xaverians and managed to snag another 3 flags in 3 years with some of his old UFC mates..
In 2011 he managed to get the band back together and as Player and Senior Coach (and with the help of Andrew "Rev" Wheeler) managed to recruit wisely (Drew and Tim Banfield were a good start) and secured an A-Reserves flag to go along with the 2011 A Grade Flag. Suffice to say it was a big couple of days at the Club and still fondly remembered by all involved.
In 2017, Jakey Day and Chris Ninkov took over the Third grade program and immediately rebranded to The Pirates. As we all know, Erkdog is a man with strong morals, so he couldn't bring himself to be associated with Pirates and made the difficult decision to remove himself and sign a life contract with the Dingoes, which would be his final resting place.
Erkdog threw out his moral compass in 2018 when he helped the Dingoes pull off a miraculous pillage of Wesley Curtin, stealing a flag and going down in Uni Folklore on a day where the C-Gulls, Dingoes and Pirates completed the treble.
In 2020, Erkdog officially became the club games record holder after overtaking club legend Rob '$8' Turner on 377 games.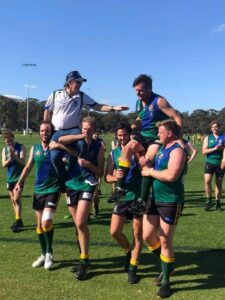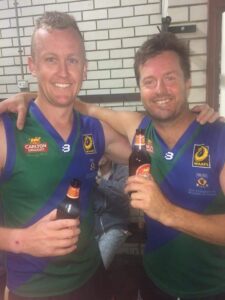 Coaching Career
The great man took the relatively easy job of coaching the highly successful A-Colts program for the 2000 and 2001 seasons. His tenure was generally well received, with the on-field performance remaining consistent, despite a significant increase in off-field extra curricular activities (allegedly).
An exert from the Green Machine paints a familiar story:
"Perhaps Erkdog should have tried the same coaching ploy in the Grand Final as he did in the Preliminary Final when he did not turn up until quarter time? His lateness described at the time by him as "The only Y2K problem that was encountered," although it may have had something to do with the fact that he 'was out until 7am trying to cut one away from the herd!' Alas, he was on time for the Grand final which they went on to lose.
In the twilight of his career, Erkdog has intermittently taken the reigns of his beloved Dingoes. When I say intermittent, it must just be a coincidence that he is often seen around finals time, bus trips or social events but mysteriously goes missing in the colder, winter months each year. Thanks to the coaching mastermind of Dylan Evans, he hasn't had to do too much coaching.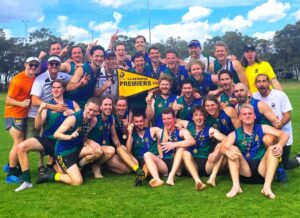 The Cold Hard Facts*
*term used incredibly loosely

1990 – Club debut in the A colts
1995-96 – Club Secretary
2000-2001 A colts coach
2002 – A Grade Debut & Judged the clubs jelly wrestling competition which was 'A huge financial success'
2011 – A Reserves Premiership coach and Player
2012 – Started playing a few games in the 3s
2014 – Had a 1-game taste of the Dingoes (4th grade)
2017 – Signed a life contract with the Dingoes
2018 – Stole a Dingoes flag from Wesley Curtin
2020 – Broke Rob '$8' Turner's 377 games record
2023 – Plays his 400th game / Helps the Dingoes win back2back flags??? (TBC)
Accolades / Statistics
400 Games
Life Member
Club Games Record Holder
10+ Premierships
Goals: Heaps
A Colts Coach (2000-2001)
A Reserves Coach (2010-2011)
Dingoes Coach (2017-2022*)
33 years of Uni Footy
33 vote counts attended
32,000 hours on-field
1,000+ Ra ta ta's completed (7.5 APBT)
7,500+ "Great Man"s
100+ times walked in to invisible fan
30+ renditions of Riptide by Vance Joy
APBT (Average per bus trip)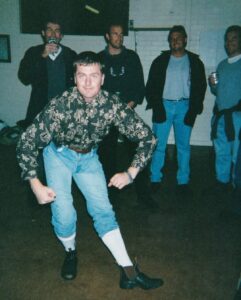 What his mates say about him
The Great man
Loyal
Fucking, Fucking Hilarious
Majestic
Vivacious
Larrikin
Loud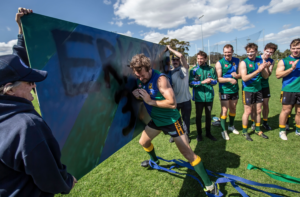 And finally, a few of our favourite quotes from the Great Man
"Sorry, but i'm here with the footy boys tonight!"
"Good call, great call"
"*Taps mic*, is this thing on"
"Allegedly"
"Just a quiet one for me tonight, only a couple of froffies"
"Chaz. Ever heard of a 3,289 games player for UFC, 10 flags and a shy guy called Erk dog? Get around me"
"Have you ever seen a better 10 flag winning, 350th gamer? I think not"