The green and blue of the Uni Footy club have been around for 100 years but one aspect of the playing uniform has stuck out like a sore thumb.
The WAAFL (now PFL) previously mandated that black shorts were to be worn at home and white shorts away. In recent years the interpretation of this rule has changed and a large portion of clubs have transitioned to using their club colours for home games.
Thanks to our generous sponsors, the UFC has been able to make the change to blue shorts for the upcoming season.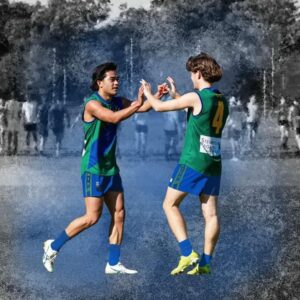 For home games, the club will wear matching blue socks which have traditionally been reserved for once a year during Laef Allen Round.
Our sponsor logos will be displayed on the playing shorts as follows:
Like many aspects of Uni footy, the mismatched nature of the black shorts has been a topic of much discussion among players and fans over the years.
With this change in uniform and the development of the much anticipated Neil Donaldson Pavillion commencing soon, it's an exciting time to be a part of Australia's most successful amateur football club.
Get in touch if you are interested in playing or volunteering in 2023.